Biography of director, producer and writer: Anne Gyrithe Bonne (M.A.)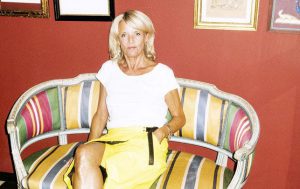 AUNG SAN SUU KYI – LADY OF NO FEAR (2010) is Anne Gyrithe Bonnes latest work, and shows her strong fascination for individuals who are willing to sacrifice their lives for a greater purpose and break with the usual standards.
The documentary has been broadcasted in more than 20 countries and nominated world wide.
Among her other films you find the international documentary The Will to Live (2003), a personal account of our relationship to the concepts of Love, Hate and Reconciliation shot during the fateful six months of 9/11 2001 – 3/11 2002 in South Africa, Honduras and USA. Confronting Archbishop Desmond Tutu and the black people of the townships, the indigenous people with the Honduras activist Dr. Juan Almendares and the Cambodian writer Chanrithy Him with the people of New York all having the questions of how to forgive.
In Denmark she has made portraits of the Danish writer and Film director, Henrik Stangerup, the international composer Per Nørgaard and writer and director Christian Braad Thomsen, all of them have played a significant role in the cultural and ethical debate in Denmark.